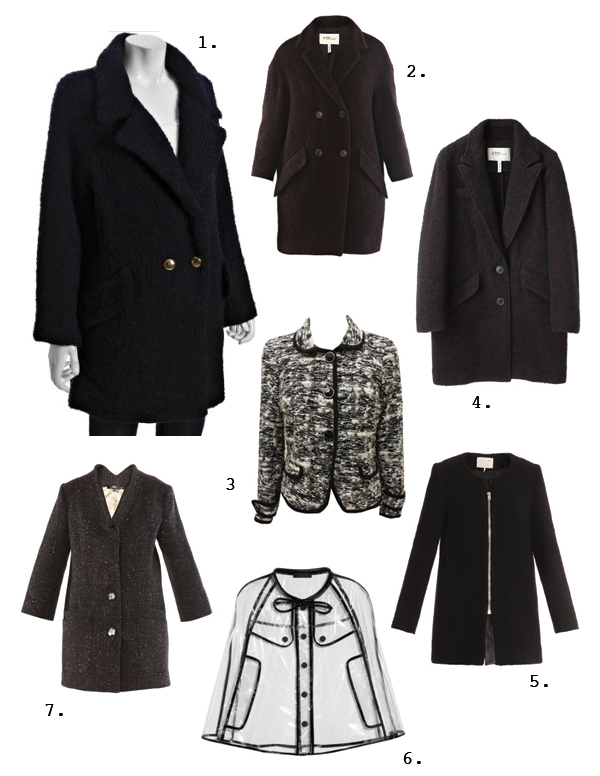 Now that I look at it, this post is looking quite dark and muddy but my picks for Winter Coats are not random haha..
The thing is winter coats are the most annoying thing in my wardrobe, most of the year they are simply pissing me off by taking in so much space and there is only so much what you can store. So I rather have 1 or 2 perfect coats that last me years.
So my search for a new winter coat has begun. Normally I don't care if a item is practical but when it comes to coats just a few things need to be right:
The material needs to be wool, (like a hairy wool or boucle), the color needs to be Black or a very inky Navy Blue, needs to have good pockets, needs to close properly, the length should be upper mid-thigh, needs full length sleeves, needs to be warm.
This far I really like the Marc by Marc Jacobs coat and the silhouettes of the Isabel Marant coats the best. For sleek designs and tweed and twill like textures I will try my luck with the Zara, and for those who are drooling like me over the Burberry Prorsum Cape try your luck at Storets with this $92 look-a-like!
2)
Étoile Isabel Marant
XITY ALPACA WOOL Coat
€459.00
3)
James Lakeland "Chanel Jacket"
£158.90
4)
Étoile Isabel Marant
Xabi Coat $570.00

xoxo